Stay healthy and prevent the spread of influenza by taking the following steps:
Ensure you and your family gets an annual flu shot.
Wash your hands properly, and often. Twenty seconds of hand washing with warm water and soap helps remove bacteria and viruses.
Cover up when you cough or sneeze. If a tissue is not available, raise your arm up to your face to cough or sneeze into your sleeve. If you use a tissue, dispose of it and wash your hands immediately.
Keep shared surfaces like doorknobs, light switches, and telephones clean as bacteria can live up to two days on hard surfaces.
And, if you get sick, please stay at home so that you do not spread your illness to others.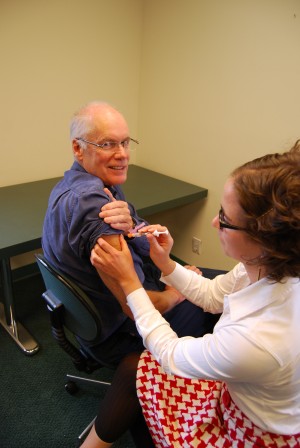 "Everyone six months and older is recommended to get a flu vaccine. A flu vaccine offers the best defense available to protect against flu," says Dr. Peter Paré, Chair of the BC Lung Association. "We also suggest those over 65 years of age get a pneumonia shot as well."Over a normal flu season, 10 – 20% of the population become infected every year.
Anyone can get the flu, but some people are at greater risk for serious flu-related complications, like pneumonia, that can lead to hospitalization and even death.
According to the Public Health Agency, between 2,000 and 8,000 people will die from pneumonia and other flu-related complications related to flu infection.
High risk groups
The Lung Association and health officials suggest everyone should get the shot, but especially seniors 65 years or older, residents of care homes, children under five, people with chronic illness, pregnant women, individuals of aboriginal ancestry and people who are severely overweight or obese. Care-givers and health-care givers are also urged to get their shot.
Where to get vaccinated?
From your family doctor, walk-in clinic, pharmacy, or local VCH Public Health clinic, there's no shortage of places to get your flu shot.