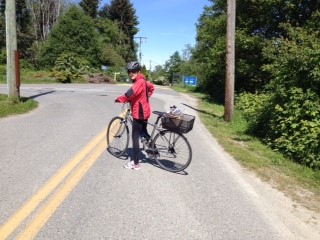 Barbara and Martin met five years ago as most people do these days – online. One coffee date and the two knew it was a match.
Each had already lived a lifetime of challenge, struggle, and loss, often putting their own lives on hold to support a loved one. Together, they planned to live out their retirement years doing the things that they love.  Barbara's slight cough and a monitor attached to her index finger however suggest a different story is unfolding.
"I've had a lung problem for a long time," she says. The petit 66-year-old has a youthful quality that belies her status as a grandmother of four. Barbara recalls years of winters where a seasonal cold would turn into a six-week bout of pneumonia. But it wasn't until recently that Barbara received an official diagnosis of Interstitial Lung Disease, specifically Nonspecific Interstitual Pneumonia and Lymphoid Interstitual Pneumonia, sister diseases to pulmonary fibrosis. Barbara's only treatment option is a lung transplant.
The disease progressed very slowly until the spring of 2012, when Barbara was 63.
"There has been a marked downturn in the last year and a half," says Martin. In August, 2014, Barbara was recommended for a transplant. "I was sick," Barbara explains. "We had planned originally to do a bike trip in Germany, and we ended up just driving."
With the future uncertain, and dependent on a lung transplant, they were determined to take the trip. "We've no idea what kind of timeline we're looking at," says Barbara. "We just have to wait and hope."
Barbara and Martin are thankful for the support networks available to them through the Pacific Lung Health Centre and BC Transplant at VGH.  Research has also played a role in keeping Barbara active. She was put forward for four different studies by her respirologist, Dr. Chris Ryerson, a BC Lung Association research fellow, including a three-month exercise program at St. Paul's Hospital Pulmonary Rehabilitation Program, also funded in part by the BC Lung Association.
"I had been backing off at the gym and stopped swimming and cross-country skiing," says Barbara. "But I learned that with proper oxygen management, I could get back to doing some of my favourite activities." Barbara recently cycled 23 km with the help of a small oxygen tank strapped to the back of her bicycle.
The couple would like to find ways to bring the type of support they have been getting from their groups in the Lower Mainland out to a wider BC audience. They would also like to see more awareness of different types of lung disease.
"Everybody knows what COPD is, but there is so little known about the others," says Barbara. "This disease kills 5,000 people a year in Canada. That's the same as the number of women dying of breast cancer. I'd like to see more money allocated to this disease, more funding for research."
And so life continues for Barbara and Martin, but not the way they had envisioned. "We thought it was our turn finally," says Martin. "And then this lung disease rears its ugly head."