What is asthma?
Asthma is a chronic (life-long) disease that makes your lungs very sensitive and makes it hard to breathe. Asthma can't be cured, but with proper treatment, people with asthma can lead normal, active lives.
Why is it important for a child's asthma to be managed?
Asthma is the most common lung disease in children and one of the leading causes of school absences. Without access to diagnostic testing and treatment to manage the disease, asthma can reduce a child's quality of life and can also be life-threatening.
How common is asthma?
As many as 1 in 5 youth are affected. In every classroom, there is a very good chance that several students will have asthma.
What is the "Asthma September Spike?"
There is an increase in asthma symptoms in September. When youth go back to school, they are suddenly in close quarters with many other students and with the germs and viruses children carry. Viruses, including the common cold, are one of the most common triggers (things that make asthma worse) for asthma symptoms in youth. For those with asthma, especially uncontrolled asthma, a simple cold can lead to dangerous symptoms and unscheduled visits to the doctor or the emergency department.
What are the symptoms of asthma?
Asthma symptoms include cough, wheeze, chest tightness, or shortness of breath. People with asthma can have one or more symptoms. The triggers (things that make asthma symptoms worse) are linked to environmental factors that for my patients and many patients out there are linked to the social determinants of health. Empowering people through education about disease - their triggers, symptoms and available treatments - enables patients and families to be in control of their illness.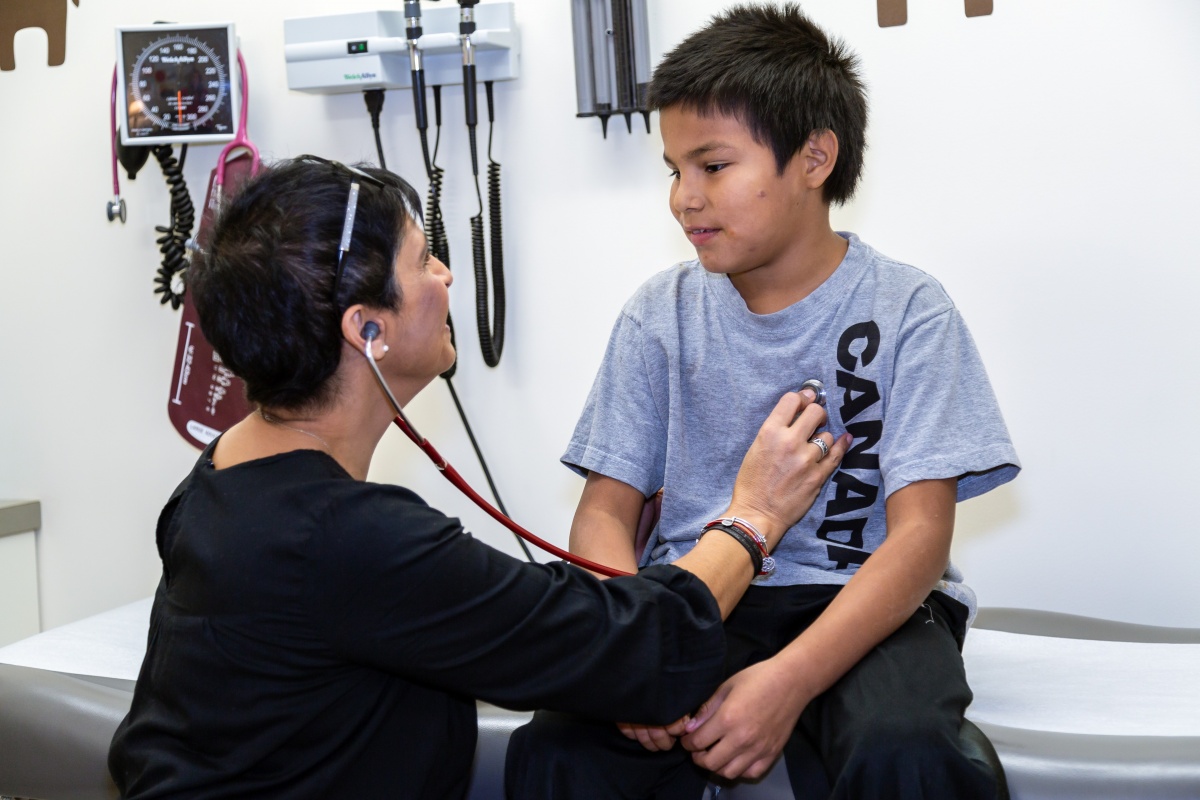 Dr. Mehtar – Pediatrician and asthma patient Drake Bear
How is your role unique in all of Canada?
I dedicate my work to improve children's access to health and asthma care. In 2006 the Canadian Journal of Public Health published the Health Disparities by Neighborhood Income Study (Lemstra et al.), which highlighted the extent of existing disparities based on neighbourhood income. In order to address some of the inequalities in health care access for children in Saskatoon, St. Mary's Community Education and Wellness Centre was established the following year.  In May of 2007 St. Mary's became the first in Canada to have an in-school pediatric clinic.  I took on a unique role changing history while improving youth access to health care. Access to asthma testing and education to manage the disease was highlighted as an essential need for the community. The Lung Association was the clinic's first community partner to team up with St. Mary's and continues today to provide spirometry and asthma education at the clinic.
What inspires you?
I was born and raised in South Africa. I grew up in the small town of Paarl.  My time in South Africa was during the Apartheid years.  I grew up, with limited money, went to school and lived my life in segregated communities – dictated by the laws of the country. The choices I made throughout my life to overcome the adversity I faced was influenced largely by the lessons and legacy of Nelson Mandela. The world  leader once said, "Education is the most powerful weapon which you can use to change the world." It was Mandela's leadership that empowered me to not only learn to forgive others, show grace and practice kindness, but also inspired me to strive towards an education in medicine.  My own lived experiences, mentors and passion for health equity have made me the doctor I am today. I am proud to help the children of our province to breathe a little easier. My belief that health and healthcare access is a human right was undoubtedly influenced by growing up in South Africa in the 1970s and 1980s.  Every child and youth deserves equitable access to the same standards of health care, irrespective of their families' income level, their race, culture, or level of education attainment of their families. 
One breath at a time, Dr. Mehtar's passion and dedication has changed the worlds of each and every one of her patients for the better. Thank you Dr. Mehtar!