On March 17, 2016, 26 months after receiving her diagnosis of lung cancer, Dr. Terry-Nan Tannenbaum passed away. The courage with which she struggled against lung cancer is evident from the six instalments of her blog.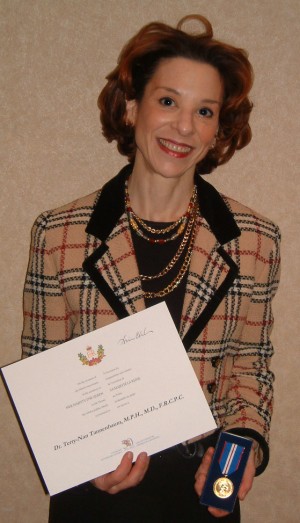 The Lung Association was truly blessed to have a friend such as Dr. Terry-Nan Tannenbaum.
From 1999 to 2006, Terry-Nan was the Medical Director of a project to develop a TB control program in Ecuador. The project was funded by CIDA through the Canadian Lung Association. During this time, Ecuador went from having the worst TB control in the Americas to having a world-class program available to 70% of the population.
One of the keys to the success of the project was Terry-Nan's broad depth of knowledge in public health in general and tuberculosis in particular, coupled with her ability to design and implement strategies to apply this knowledge in a challenging environment. She was very capable of seeing the big picture, knowing what needed to be done and finding ways to make it happen.
Terry-Nan earned the respect of her peers. She was president of the North American Region of the International Union Against Tuberculosis and Lung Disease in 2004-2005. She served for many years on the Canadian Tuberculosis Committee. She was a consultant for the Pan-American Health Organisation. She was a founding member of StopTB Canada.
Terry-Nan was dedicated to her work.  At the start of the Ecuador TB project, when the scope of the problems became apparent, she voluntarily spent three months living in Quito, Ecuador to get the project off to a positive start. She spent countless hours above and beyond the usual working day to develop programs, to find ways of motivating local physicians and nurses, to persuade provincial and federal government officials to recognise the importance of TB control and to hone her Spanish communication skills.
Terry-Nan was an excellent teacher and mentor.  The local physicians hired for the project were mostly recent graduates with little experience or training in TB. Under Terry-Nan's guidance, they soon became leaders in TB in Ecuador and shared Terry-Nan's passion for TB control and her compassion for the patients. They also learned basic problem-solving skills that Terry-Nan was able to impart, which became invaluable in all aspects of the project and helped to keep the TB control program sustainable long after the completion of the project.
Throughout the project, Terry-Nan was a delightful person with whom to work. Her energy, enthusiasm and sense of humour were all very contagious and added to the camaraderie of the project team. She had a winning smile that served to engage everyone and put them at ease.
In 2002, The Canadian Lung Association nominated Dr. Terry-Nan Tannenbaum for a Queen Elizabeth II Golden Jubilee Medal in recognition of her meritorious work to promote the mission of the Lung Association to improve lung health. The attached photo is from the medal presentation.
Part of Terry-Nan's legacy will be that our memories of her shall continue to motivate us in continuing to help people who are struggling to breathe.
---
The North American Region of the International Union Against Tuberculosis and Lung Disease presented Dr. Terry-Nan Tannenbaum with their Outstanding Service Award in 2015 with the following citation:
"Terry's first contact with the TB world was a brief encounter with a young Jane Carter, when she (Terry) was an undergraduate at Brown University. Following this liberal arts education, she returned to Canada for medical school, at Calgary, then family medicine training at the Jewish General Hospital. She continued her North American travels – with training in Community Medicine and an MPH at the University of Massachusetts in Amherst.  She then returned to Montreal with her husband and young family; she settled down, bought a house in Westmount, and entered Public Health in Montreal. Here she developed a PASSION for tuberculosis – assuming responsibility for all TB in Montreal from 1994 until 2006 – teaching her colleagues (especially at the Montreal Chest Institute) everything they know about TB. During this period, she was the Medical Director for 6 years of a Canada-Ecuador cooperative project to implement and expand DOTS in that country. She chaired a Canadian Federal-Provincial committee on TB – a rare position for a Quebecer! She also was President of the NAR from 2003-2005. After that she completed an MBA at McGill, and with these new skills rose to Chief of Infectious Diseases for the Montreal Public Health Unit in 2008, and then Assistant Director of Montreal Public Health in 2012.
Terry has made many important contributions to TB control – in Montreal, and in North and South America. Her intellect and sensible pragmatic approach made every project she worked on more useful and helpful, and this, coupled with her charm and perseverance ensured the success of those projects. But it is her tremendous energy, infectious enthusiasm, and wonderful sense of humor (and fashion) that makes work with Terry enjoyable, lively, and memorable – for those who have the opportunity and privilege.  We are proud to call her our colleague, friend and teacher."