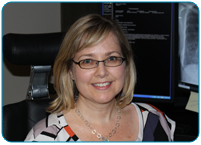 Dr. Charlene Fell's first experience with idiopathic pulmonary fibrosis (IPF) came early on in her medical career. It was during her fellowship in respirology at the University of Calgary that she was assigned a patient who changed the course of her career, and ultimately inspired her to dedicate her research efforts to unraveling the mystery of IPF. Dr. Fell remembers that first patient as a remarkable man with a gentle spirit, who was in the prime of his life. "I was so frustrated that I couldn't do more to help him," recalls Dr. Fell.
IPF is a serious disease that causes severe scarring of the lungs and makes it difficult to breathe. Its cause is unknown. The average survival time from diagnosis is three to five years. An estimated 5,000 to 9,000 patients are living with IPF across the country.
Dr. Fell is chair of the Canadian Thoracic Society Pulmonary Fibrosis Interest Group, which comprises respirologists, clinician scientists, researchers and pathologists with an interest in finding better ways to treat people with IPF. Dr. Fell is particularly excited about the group's work in creating a national database of IPF patients. The database will be instrumental in facilitating research on the disease. The group also plans to develop Canadian IPF clinical practice guidelines to help better diagnose and treat the disease. Diagnosing IPF is a detailed process. It requires a careful medical history and input from specially trained radiologists and pathologists. A correct diagnosis is important because there are more than 200 forms of pulmonary fibrosis.
On average, Dr. Fell sees an estimated 100 to 120 patients with pulmonary fibrosis per year in her clinical practice. Just three or four of these patients a year will undergo a lung transplant. The process of finding suitable lungs and then undergoing the actual procedure can be long and difficult. The average wait time for new lungs is two years. Most patients are supported with oxygen therapy to help them breathe and pulmonary rehabilitation. Some patients are able to participate in clinical drug trials.
"We need greater awareness about IPF," says Dr. Fell. Indeed, awareness of IPF remains low compared with other diseases which have high profile fundraising events to raise money for research. Dr. Fell says awareness is slowly growing and she is hopeful that this will make a difference in the lives of those with IPF and their caregivers. "Raising awareness about IPF among the general public is a crucial first step in generating more research dollars into the disease – and eventually finding a cure."