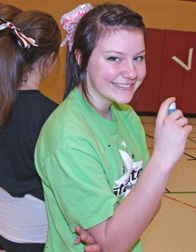 Thirteen-year-old Lauren C. of St. John's, Newfoundland loves cheerleading, gymnastics, dance lessons, and volleyball. She also has asthma but that hasn't stopped her from participating in her favourite sports.
"She's always been very active," says her mother Tanya. "In the last year, she started having difficulties with her breathing when she exercised."
"At school, when I walked up the stairs, I couldn't catch my breath. I'd have to stop," recalls Lauren.
So Lauren and her mom went to see a doctor, who diagnosed exercise-induced asthma and prescribed Lauren a puffer. Her doctor explained that Lauren should use her puffer 15-20 minutes before exercising to help prevent an asthma flare-up.
This past year, Lauren made the provincial cheerleading squad and will be competing in the national championship in May. She's also a member of her school's cheerleading team. That means Lauren spends at least 10 hours a week, practising routines and running around a track to build up endurance and strength.
Like a lot of teenagers, Lauren doesn't always remember to use her puffer before exercising. "Sometimes my coach will see that I'm breathing heavily at practice and she'll tell me to stop and go get my puffer," says the Grade 8 student. Lauren's working on remembering to take her puffer before starts her workout.
"If you have asthma, don't let it stop you from doing the sports that you love. Your life doesn't have to stop because you have asthma," says Lauren.
How to exercise safely with asthma
How to manage your asthma
Get personalized advice on improving your asthma symptoms: find an asthma program near you