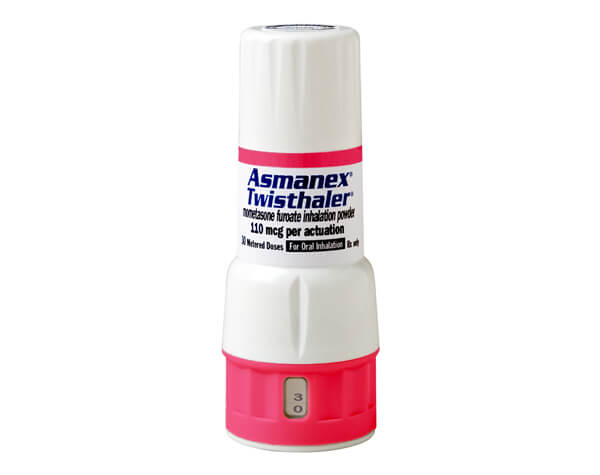 HOW TO USE YOUR TWISTHALER
About the Twisthaler
The Asmanex Twisthaler is a dry powder inhaler that may be prescribed to you if you have asthma. It is a preventer or controller inhaler that you take every day — even if you have no symptoms — to make sure your airways stay clear and to prevent redness, mucus and swelling.
It is not a rescue inhaler — it will not relieve an asthma attack once it has already started. 
This information is meant to help you use your Twisthaler. If you require more information about the medication itself, please speak to your healthcare provider or pharmacist.
How to use the Twisthaler
The Twisthaler is breath-activated. This means when you inhale, the Twisthaler automatically releases the medication. If you use it properly, the Twisthaler can deliver medication deep into your lungs.
Hold the inhaler upright and twist the cap off.
Breathe out, away from the Twisthaler.
Seal your lips around the mouthpiece and breathe in quickly and deeply.
Remove inhaler from your mouth and hold your breath for 5 to 10 seconds.
Twist the cap on to close and reset the Twisthaler.
If you need a second puff, repeat these steps and then rinse your mouth.
Never wash the mouthpiece. You should clean the mouthpiece two or three times a week using a dry cloth to wipe away any particles that have collected on it.
VIDEO: How to use the Twisthaler
Questions about your lung health? Ask a certified respiratory educator.
1-866-717-2673 (English)
1-866-325-2673 (French)