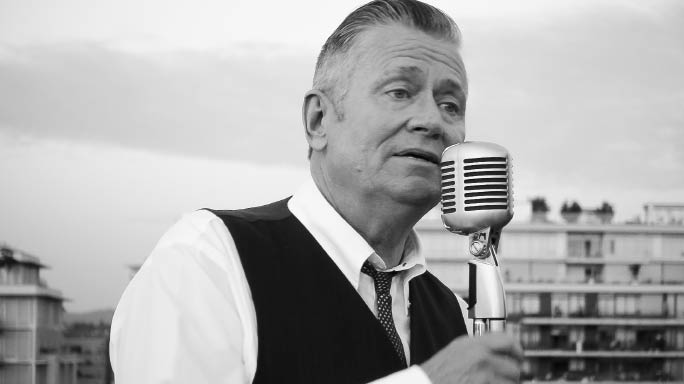 Darcy Murdoch has played many roles in his life as an entertainer. An average encounter finds him effortlessly riffling between two of his alter egos, crooner Bobby Bacchus, and the King himself, Elvis Presley. But no role has challenged him more than that of patient.
Years of long days and late nights working in the catering business, rich meals at odd hours and constant heavy lifting were affecting Darcy Murdoch's health. The former smoker was used to feeling out of breath, but when he began to wheeze and cough more frequently, he knew it was something more.
His doctor suspected a chest infection, but x-rays proved otherwise. In 2011, at the age of 54, Darcy was diagnosed with IPF. And like all IPF patients, Darcy would need a lung transplant to survive.
"My initial reaction was fear, trepidation, anger, depression. I had my little pity party for about six months, then I snapped out of that. I started working out like a fiend and shifted my way of thinking to positive."
With a proper diet and daily sessions in his home gym, Darcy lost close to 40 pounds as he waited for his transplant. But as his illness progressed, it also took its toll on Darcy's livelihood. The entertainer was dependent on gigs to pay his bills, and his condition kept him from working as much as usual.
Thankfully, the stars aligned. Darcy finished his final restaurant gig on December 22, 2014, paid his bills, and got the call for a transplant six weeks later. On January 30, 2015 Darcy underwent a bilateral lung transplant
Darcy is grateful for a second chance at life. Whether he's wearing oversized clown shoes or blue suede shoes, Darcy brings his heart and soul to whatever role he is playing. Likewise, Darcy's positive approach to wellness and recovery has made him a transplant success story. "Life is amazing," he says. "After transplant, there are always issues with medications, but those have eased off. On a scale of one to ten, I give life a nine."
Darcy is committed to giving back, and is already working with the BC Lung Association as a patient advocate, helping encourage donor investment in IPF research and patient support program expansion.  He believes patient support groups are a vital resource, saying, "when I first learned I had IPF, I was like a deer in headlights, but once I got to the support group meeting and met people that had what I had, and a few others who had undergone lung transplants I was able to talk through my feelings and ask questions. It's like a little family, there's a  closeness involved and that really, really helps get you through."