Ottawa, ON - The Canadian Lung Association would like to congratulate all of the deserving recipients of our 2019 national awards. This year there were three awards presented across Canada – the Founders Award, the Alan J. McFarlane Staff Award and the Lifetime Achievement Award. The three awards are presented on alternating years with recipients selected by the National Awards Committee.
These awards seek to identify and reward those whose commitment and dedication to lung health continue to advance our mission.
"I sincerely congratulate all of the recipients of this year's awards. It is people like this year's nominees and winners who are the foundation of our success as an organization," says Andrea Power, MPA, Chairperson of the National Board of Directors.
"We could not achieve a Canada that's easy to breathe in for all without people like Dr. Paré, Lori Kleiboer and Karen Davis,"adds Terry Dean, president and CEO of The Lung Association – National.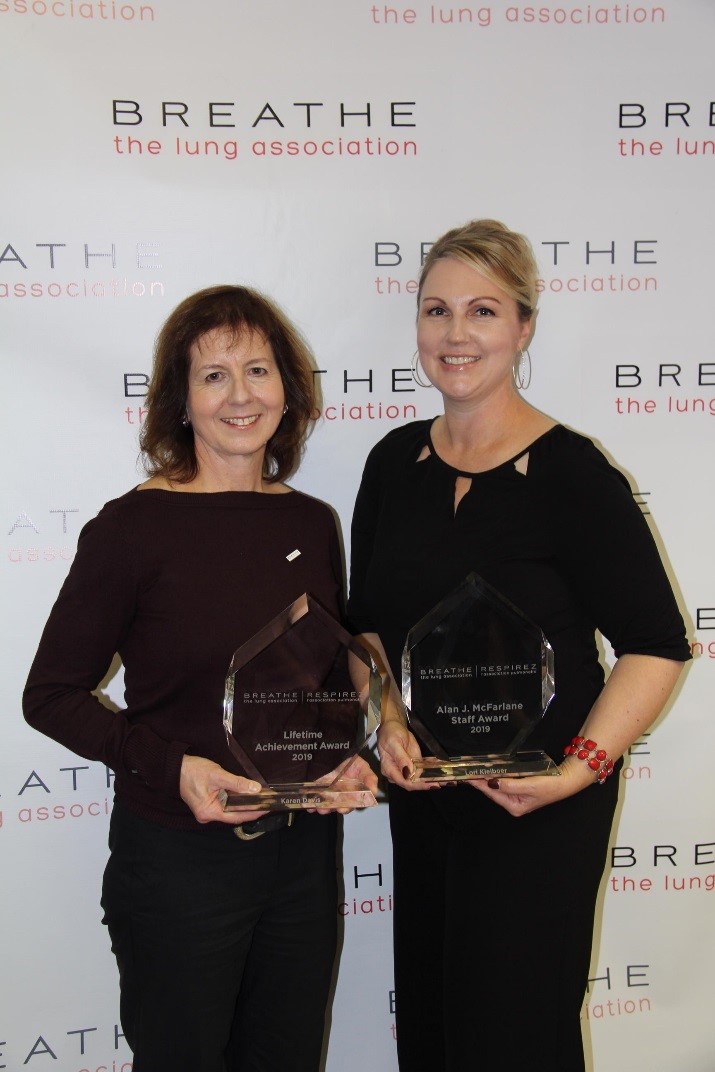 This year's recipients were:
British Columbia's Dr. Peter Paré received the Founders Award for his continued active role in the prevention, promotion and maintenance of lung health for over forty years as a co-founder of the Pulmonary Research Laboratory at St. Paul's Hospital in Vancouver in 1977, and his following roles served as:
Director of the Centre for Heart Lung Innovation;
Head of the University of British Columbia and St. Paul's Hospital Respiratory Division;
Head of Medicine at St. Paul's Hospital;
Director of the UBC Clinical Investigator Program;
Director of the iCapture Centre; and
Chair and Past Chair of the British Columbia Lung Association.
The Founders award honours individuals who have devoted themselves to the affairs of The Lung Association and to the cause of respiratory health. The award recognizes exemplary innovation or commitment towards lung health.
Saskatchewan's Lori Kleiboer received the Alan J. McFarlane Staff Award for her long-standing dedication to the organization with more than 22 years of exceptional service to the Lung Association of Saskatchewan. In addition to being a strong communicator, fundraiser and manager of professional health education programs, Lori continues to look for opportunities to demonstrate impact and excellence within herself and amongst her team.  Her noteworthy contributions include her work in leading professional health educations events including Respiratory Training and Educator Course (RESPTREC).
 The Alan J. McFarlane Staff Award is presented to a Lung Association employee for contributing unique and outstanding service to the Association as recognized by his/her peers.
Saskatchewan's Karen Davis received this year's Lifetime Achievement Award for her dedication to The Lung Association mission with more than 32 years serving as a lung health advocate, donor and volunteer to the Lung Association of Saskatchewan.  Karen has thirty years of experience as clinical dietitian and educator and is a dietitian for the Saskatchewan Health Authority. With her professional background, she has been able to provide a unique and expert perspective to lung health by integrating nutrition into respiratory health and managing chronic lung issues by providing consultation to The Lung Association and to those with lung health issues.
The Lifetime Achievement Award for distinguished and devoted service to The Lung Association is awarded to an individual whose personal activities and/or leadership and devotion to the affairs of the organization are considered exemplary.
To learn about last year's recipients, read The Lung Association Congratulates National Award Recipients.